The latest in the Yokogawa ScopeCorder family offers improved high-speed data acquisition facilities, giving better insight for manufacturers developing advanced and sustainable transport solutions –
Yokogawa Test & Measurement has added another new instrument to its ScopeCorder family of portable multi-channel data-acquisition recorders, extending and improving their speed, channel count and data acquisition features.
As companies develop more energy efficient technologies for transportation, as well as more autonomous vehicles, the DL950 will offer manufacturers a highly detailed view of an application's electrical and mechanical behaviour.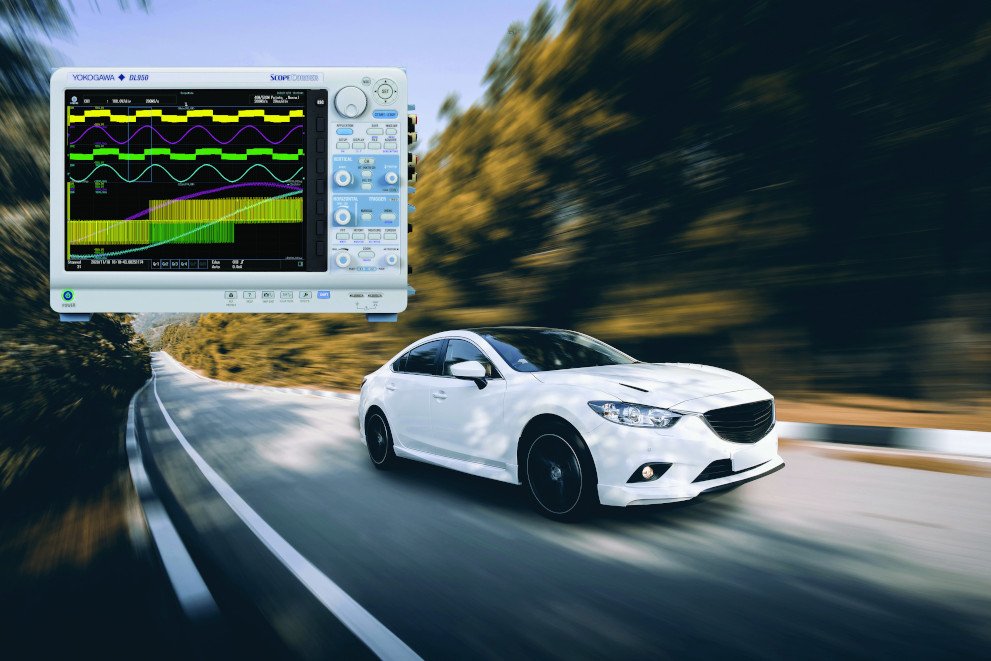 The DL950 will prove invaluable in the transportation industry for applications such as testing electric vehicles and SiC/GaN inverters, as well as ECUs, sensors and in-vehicle communications networks.
Providing a unique combination of the high-speed sampling and signal fidelity of an oscilloscope and the long-term data recording capabilities of a recorder, the DL950 measures signals at a high bit resolution while securing data in the harshest of environments. Building on the capabilities of the well-established DL850E, the new DL950 ScopeCorder can handle larger amounts of data at a faster sample rate and with a longer recording time. It has a large acquisition memory up to 8 Gpoint, and a 200 MS/s sample rate at 14-bit, compared to the DL850E's 100 MS/s at 12-bit. This is twice the sample rate but with much more detail. The DL950 can run up to 32 isolated analog channels with 10 MS/s at 16-bit or up to 128 digital channels.
This provides a complete solution for developers in the high-precision mechatronics and electric power markets and contributes to the further advancement and development of technology.
The DL950 ScopeCorder provides developers with a high degree of insight into the behaviour of these systems by capturing and analyzing a wide variety of electrical signals, mechanical performance parameters indicated by sensors and decoded vehicle serial bus signals.
The dual capture feature offers both data acquisition recorder functionality and the sample speed and trigger features of an oscilloscope. This allows developers to analyze the finest waveform details while observing multi-channel measurements over longer periods. The DL950 offers five options for acquiring data, allowing users to choose the best method for their application. They can opt for normal acquisition into the fast internal acquisition memory, recording to flash memory (coming soon), recording to the internal hard disk (SSD) or directly to the PC via normal Ethernet or opt for 10 Gigabit Ethernet.
Data can be captured to a PC streaming over a very long time at up to 160 MB/s, with data volumes limited only by the PC's storage size. Using 10 Gigabit Ethernet, data can be transferred from the DL950 to a PC at 50 times the speed of its predecessor. A fiber optic cord and the Yokogawa's IS8000 PC software are used for transmission.
The DL950 will also feature Flash Acquisition (coming soon), used to store data when a PC cannot be used, for example when capturing data from within a vehicle,. In these applications the unit would usually need to be switched off before moving it to an office to save data on a PC. Using Flash Acquisition, data can be captured over a long time with a high-speed sample rate of 20 MS/s (8CH) and 10 MS/s (16CH).
This is ideal for developers of transport solutions, as it allows capturing the high-speed switching events of components such as inverters, motors and ECUs that increasingly form part of electric vehicles.
The 512GB internal SSD can record up to 50 days. Depending on the sample rate it can record for five hours on one channel at up to 2 MS/s, or record at 200 kS/s for 20 hours with 16 channels. Waveforms from dual capture can also be recorded, useful for in-vehicle endurance testing and capturing rare spontaneous events.
The DL950 provides ultimate versatility, as it can be connected to 21 types of input modules. These include 12-, 14- and 16-bit isolation modules, universal voltage/temperature modules, acceleration/voltage modules, strain modules and frequency modules.
Up to five DL950s can also be synchronized to allow the use of up to 160 voltage channels. Alternatively, up to 640 temperature channels can be used, employing 16 channels with eight slots for each of five DL950 units. The subunits can be synchronized to start and stop their measurements via signals from the main unit.
The DL950 is also easy to use via a large 12.1 inch touch screen, providing convenient access to its wealth of features. Yokogawa's power analyzers and a selection of other instruments can be time synchronized through the device's integrated IEEE1588 PTP master function and the IS8000 Integrated Software Platform. The units can also be controlled remotely, allowing home workers to continue conducting tests while working away from the test laboratory.
Dedicated application menus simplify the setup. Touching an application icon brings up the graphical setup screen for the application, while users can also register frequently used applications as favourites.
"With the DL950, the already excellent ScopeCorder family attains new levels of data acquisition speed and greatly improved usability", says Terry Marrinan, Yokogawa Test & Measurement's Vice President for Europe & South East Asia: "Offering the versatility to discover more from a large number of input types, the insight available from a high bit resolution and a high level usability from easy set-up, the DL950 gives developers the tools they need to gain detailed information on the behaviour of energy efficient and new renewable energy technologies and devices."
For further information on the DL950 please click here.
About Yokogawa Test & Measurement
Yokogawa has been developing measurement solutions for 100 years, consistently finding new ways to give R&D teams the tools they need to gain the best insights from their measurement strategies. The company has pioneered accurate power measurement throughout its history, and is the market leader in digital power analyzers.
Yokogawa instruments are renowned for maintaining high levels of precision and for continuing to deliver value for far longer than the typical shelf-life of such equipment. Yokogawa believes that precise and effective measurement lies at the heart of successful innovation – and has focused its own R&D on providing the tools that researchers and engineers need to address challenges great and small.
Yokogawa takes pride in its reputation for quality, both in the products it delivers – often adding new features in response to specific client requests – and the level of service and advice provided to clients, helping to devise measurement strategies for even the most challenging environments.
The guaranteed accuracy and precision of Yokogawa's instruments results from the fact that Yokogawa has its own European standards laboratory at its European headquarters in The Netherlands. This facility is the only industrial (i.e. non-government or national) organisation in the world to offer accredited power calibration, at frequencies up to 100 kHz. ISO 17025 accreditation demonstrates the international competence of the laboratory.
– Meet the precision makers at http://tmi.yokogawa.com/eu/
About Yokogawa
Founded in 1915, Yokogawa engages in broad-ranging activities in the areas of measurement, control, and information. The industrial automation business provides vital products, services, and solutions to a diverse range of process industries including oil, chemicals, natural gas, power, iron and steel, and pulp and paper. With the life innovation business, the company aims to radically improve productivity across the pharmaceutical and food industry value chains. The test & measurement, aviation, and other businesses continue to provide essential instruments and equipment with industry-leading precision and reliability. Yokogawa co-innovates with its customers through a global network of 114 companies spanning 62 countries, generating US$3.7 billion in sales in FY2019.
For more information, please visit www.yokogawa.com.
For further information please contact: