The MEDINA concept, a step toward e-mobility
The protection of the environment is increasingly becoming a priority on the political agenda around the globe. The UN-Paris agreement sets a target of 1.5°C on global warming, Green parties are gaining influence and even running or participating in various governments (e.g. Austria) and the youth movement 'Fridays for future' is attracting more and more attention and support.
The transportation sector with combustion engines is one of the major sources for CO2 emissions.
Automotive and machinery equipment manufacturers all over the globe are searching for alternative drive solutions, most importantly Battery Electric Vehicles (BEV) and Fuel Cell Electric Vehicles (FCEV) or hybrid systems with both a combustion engine and electrification.
To ensure safety and to increase longevity of electric vehicles, the drivetrain and energy systems must operate under optimal thermal conditions. At the same time, applications demand increased power, capacity, or charging/discharging rates (C-rates). As temperature boundaries are significantly more restricted compared to internal combustion engines (ICE's), observing these limits is both more important and more difficult. Electrical motors overheating will lead to an exponential decrease in lifetime. Lithium-ion-batteries should operate within a temperature range of 20 to 45°C. If they overheat, electrochemical aging processes start. If they are working at temperatures below 20°C, performance decreases significantly. In addition, converters, transformers and the power electronics are facing aging and stress factors with overheating.
So, generally speaking, for the lifetime and performance an efficient and consequent thermal management is mandatory.
To face these challenges, AKG Group – a company founded in 1919 in Hofgeismar, Germany that has grown from a small production facility into a worldwide manufacturer of specialised cooling systems – has collaborated with Aurora, a leading global supplier of HVAC solutions for low volume and off-road applications and high-end applications, founded in 1930 also in Germany.
Together, they have developed a range of products solving these problems and allowing each component to run in optimized thermal conditions, extending life and increasing effectiveness. Special cold plates, designed according to heat rejection maps and completely new architectures for battery cooling, offer one type of solution. Developed in cooperation with leading research institutes and universities (e.g. FEV and Aachen University), these advancements warrant consideration.
Homogeneous temperature distribution on a cold plate
However, even when components are running under best conditions one problem remains crucial for the acceptance of electric vehicles: its autonomy, measured as driving range for cars and busses and working hours for machinery and trucks. To reach a maximum of autonomy, most of the stored electricity should be available for the main purpose of the vehicle (driving, transporting or working) and not consumed by secondary usage (heating, cooling, fan drive). If the battery fulfills these needs as well, then either the dimension, weight and cost will increase significantly or the autonomy will decrease accordingly. Both approaches have been accepted in the beginning of the electrification shift but are losing their appeal. Today it would be a severe setback if a new electric vehicle were launched with a reduction of 50% of driving range in winter, just because this electricity would be used for heating the passenger cabin.
To optimize the use of energy for electric vehicles AKG has jointly with Aurora developed the MEDINA (Minimum Energy Demanding Integrated New Architecture) concept. This concept harvests waste heat from not only the electric components (battery, motors, converters, transformers, electronics etcetera) but also from other areas including the hydraulic system (for working machinery like excavators or tractors) and reuses it to its maximum, either through a heat pump or directly.
The MEDINA concept allows two ways of optimization: either offering the same size of battery with significantly more autonomy (if heating or cooling is needed), or maintaining the same vehicle range or operating time with a reduction in the size and cost of the battery (depending on utilization and conditions up to 40 %).
AKG and Aurora jointly have developed a software to calculate the possible benefits under specific conditions and with this can support their customers already in the development phase with optimization.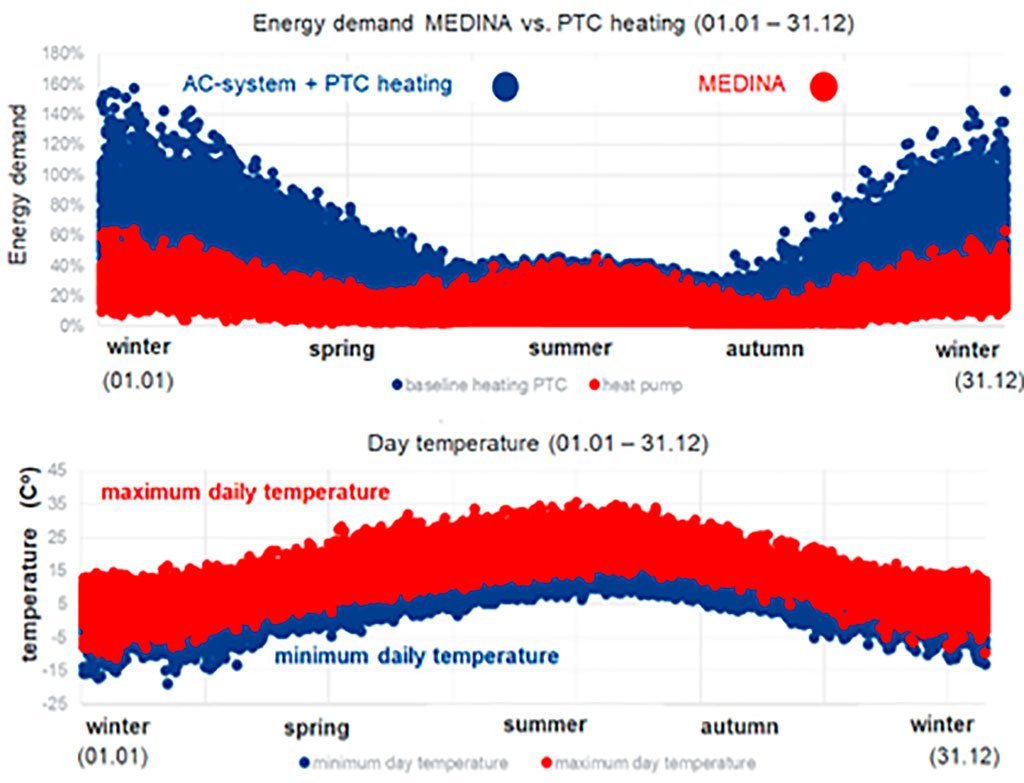 The core element, the heat pump, is again a joint development. AKG's high performance SSC (Stacked Shell Cooler) contribute significantly to the performance of the heat pump. Due to their extraordinary flexibility in design, each heat exchanger is developed for the physical properties of the media and working conditions. Connections and flow directions (parallel, counter, diagonal, U-flow, multi passages) are also completely selectable. Aurora's long experience in refrigerant cycle, HVAC and all required components ensures the systems' optimal operation in all conditions.
To offer flexible solutions to all kind of customers, it is possible to integrate MEDINA not only as complete system in a vehicle but also to have a step-by-step integration. An OEM may start with a battery thermal management system (BTMS) only or with the hydraulic system as single heat source for the pump and later, in stage two, integrate additional components.
Openness, flexibility, and high value in technical support and product performance are key for AKG-Aurora in serving our customers; this is the driving force of the MEDINA concept.
With the MEDINA concept, AKG and Aurora offer the market an option for substantial overall reduction in energy consumption for electric vehicles and by this a potential for global CO2 emission reduction

Albert Thomas Haugg, AKG