Roll-out for the first DC meters compliant with calibration law for
charging infrastructure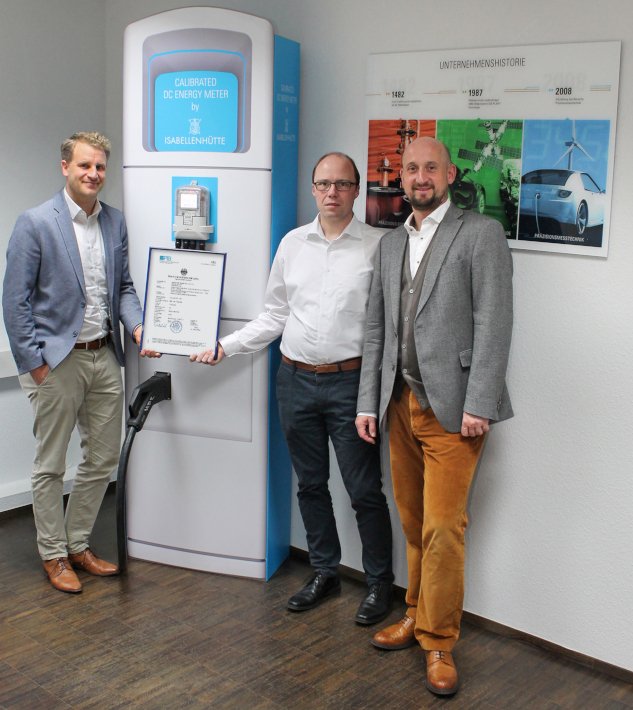 As a specialist for shunt measurement technology, Isabellenhütte presents
the first shunt-based, calibration law-compliant DC energy reference meter
IEM-DCC-500 for charging infrastructure following the successful completion
of the type examination. The DC meters are now available for purchase by
manufacturers of charging stations and can be integrated into the designs
of their applications.

The basis of the type examination certification was the successfully
conducted metrological measurement series (accuracy class B), the operation
of the software in compliance with calibration law, the corresponding
documentation for the customers and institutes, as well as the positive
completion of the EMC and environmental impact studies. Andreas Prüfling,
Director of the Business Unit Measurement at Isabellenhütte: "We thank PTB
Braunschweig for this good collaboration, which has ultimately led us to
achieving a solution for the market that complies with calibration law.
Simultaneously, we have expanded series production so that the DC meter is
now directly available to recharging station manufacturers." The design
features integrated current and voltage measurement (500 A and 1,000 V) as
well as the calibration law-relevant periphery in a compact housing that is
secured against manipulation.

Strategic partnerships

The good news didn't only bring relief to the development partner
Innogy, which is itself still in the process of completing the type
examination for its own recharging station solution with integrated IEM-DCC-
500, but also for Isabellenhütte's other strategic cooperation partners.
Tobias Wolff, Business Development Manager for Smart Grid at Isabellenhütte
had this to say: "We are currently helping five recharging station
manufacturers to integrate our DC meter into their hardware structure. We
would like to use our experience to support more companies with design
integration in order to make the certification process for recharging
station concepts easier." The topic of "calibration-compliant DC energy
measurement" has further potential for Isabellenhütte. Aspects such as
adaptation to various power classes, increases in cost coefficients, and
perspectives beyond the boundaries and market requirements of the EU
promise an expanding field of business.




About Isabellenhütte Heusler
Isabellenhütte Heusler GmbH & Co. KG is a leader in the field of shunt-
based current measurement technology. Its precision measurement systems are
marketed under the ISAscale® brand. Isabellenhütte Heusler GmbH & Co. KG
has been owned by the Heusler family since 1827. The company employs some
950 people at its headquarters and production location in Dillenburg (Hesse,
Germany). www.isabellenhuette.de