Electric vehicles (EV) are triggering a large-scale transformation of the global automobile industry, with their predicted market share reaching 26% in Europe and 8% in the United States by 2030. In India, the government has issued an ambitious target for 15% of road traffic being EVs within the next five years as part of its 'National electric mobility mission', in order to reduce dependency on oil and curb pollution. However, many challenges remain, with the question of how to scale the EV charging ecosystem in a sustainable and customer-friendly manner being among the most significant.
The Indian government is planning to set up one charging station every 25km and is opening up the Indian EV market to the entry of new domestic and international players. Against this backdrop, it is clear that EVs will change the way that utility businesses operate. Tata Power, India's largest integrated power company, is planning to install over 110,000 EV charging stations across the country and it chose Tata Consultancy Services' (TCS) ChargeCore on HOBS platform to partner in its success. The project has already begun, with the first 300 charging stations brought online in just 12 weeks and a further 300 currently in process: this represents the first steps towards India's first public EV charging infrastructure.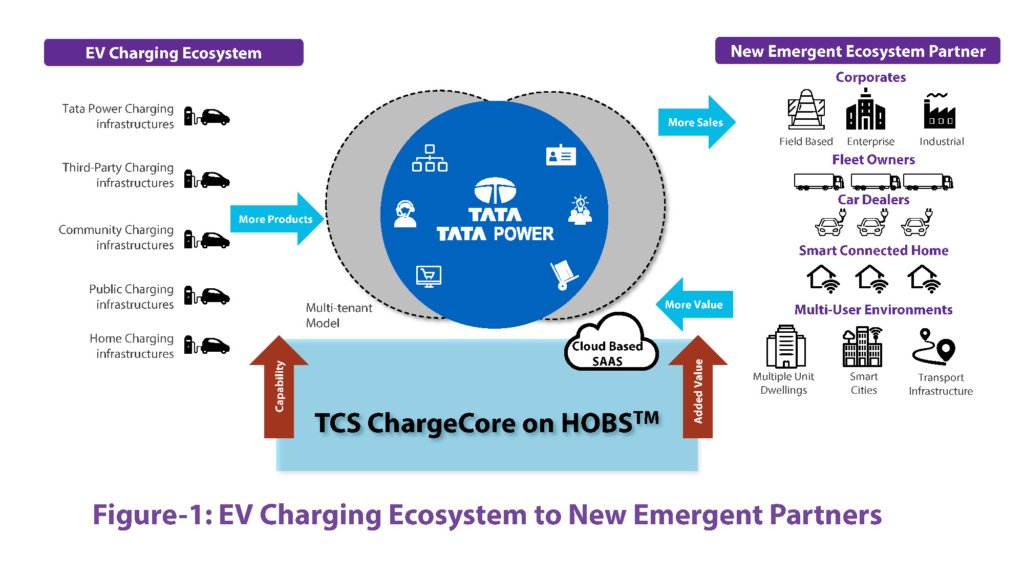 Introducing TCS HOBS
In order to meet time sensitive deployment targets, TCS used its industry-proven intellectual property (IP) – HOBS, as the foundational technology on which to build its EV charging network. HOBS, an agile next- gen platform for subscription based digital businesses, provided a full-suite of EV charge point management capabilities. Based on common standards, the platform offered ease of use and interoperability with multiple types and brands of charge points, as well as enterprise and ecosystem data access points. It also supports core front and back office systems and various payment methods. This platform is not only critical to ensuring that EV users are able to use their vehicles effectively, but also make available the data from smart grid networks to inform new pricing models and business opportunities.
TCS ChargeCore on HOBS: Capabilities and solutions
TCS ChargeCore on HOBS is an integrated solution with four primary business functions: product lifecycle management, customer lifecycle management, charging station management and billing system management. The platform allows for a seamless integration between charging stations, station owners and car owners, and enables efficient EV charging management by enabling automated facilities management and real-time analytics on how the network is being used.
The overarching goal is to provide EV charging point users with a simple, standardized experience when charging their vehicle on a long journey. In so doing, the platform also provides businesses with several benefits, such as ensuring smooth customer onboarding, improving data collection, and facilitating efficient charging and power network management.
ChargeCore on HOBS has three key capabilities:
⦁ Platform management unification: the solution enables product management, customer relationship management and order management data to be unified on one platform, rather than sitting in different silos. This enables the business to get a clearer view of how products are being used and make strategic decisions more effectively, making it easier to manage charging operations, customer relationships and ecosystem partners.
⦁ Ecosystem integration: Nationwide charging infrastructure requires a wide variety of technologies and systems to operate together seamlessly. New business models and partnerships will also be necessary for bundling insurance, infotainment, etc. along with EV charging for a new EV purchase. Ensuring that this complex ecosystem works in harmony is essential.
⦁ Mass customization and personalization for end-users: By tracking data such as make and type of EV, location, type of nearby charging station and other data, ChargeCore on HOBS offers a personalized experience to customers which enhances their overall experience and makes them more likely to become repeat users of the system.
The platform also offers a range of useful features to support an advanced and user-friendly EV charging network like, for example, a 'zero-touch' experience at unmanned, self-service charging stations. Real-time charging feedback, on-demand information on services available in nearby areas, and an interactive user rating system, where end-users can rate the services they have used to spur improvements to the network, adding to the solution's appeal.

Bringing India's first public charging system online
Supporting the Indian Government's 'National electric mobility mission', enabled by ChargeCore on HOBS, Tata Power established the first set of Electric Vehicle charging stations in Mumbai, India's financial capital, with 450 Pilot Run Charging Session and integrating 200 EV chargers with OCPP/OCPI (1.6) compliant API's/web services. This has also resulted in reduced fuel expenses by a factor of 20, and EV adoption is now seamlessly extended to 5 more cities in India.
With its rich experience of working on EV charging for pioneering OEMs, decades of engineering experience with utilities, and digital prowess in using the next gen technologies like IoT, analytics, AI and blockchain, TCS acted as the prime services supplier for the end to end delivery of the solution, seamlessly managing the data flows and overall connectivity between enterprise systems and charging operations systems.
The lessons learnt during the successful implementation of the first phase will impact the roadmap planning for the mass roll out of EV charging infrastructure across the country, and TCS will also incorporate its learnings into the ongoing product development of the ChargeCore on HOBS solution. The ChargeCore on HOBS design, deployment and scalability is clearly aligned to help the wider industry meet the Indian Government's roadmap of having 15% EVs on the roads in the next 5 years.
presented by
Sankaranarayanan 'Shanky' Viswanathan, CTO and Global Head – Industry Advisory Group, Communications, Media and Information Services (CMI), Tata Consultancy Services
Babu Unnikrishnan, CTO, Manufacturing and Utilities, Tata Consultancy Services