The Use of Screwdriving Systems in the Automotive Industry
by Jürgen Hierold, Sales Director at Deprag
Electromobility is the definitive key technology for the sustainable transport system of the future. The policy-assisted development of E-mobility is moving in the right direction. The automotive industry and its suppliers, however still find themselves in a dilemma regarding the design and project planning of their production and assembly systems. Uncertainties in planning for volume and unknown practical values continue to be the greatest challenges.
E-mobility imposes certain requirements on the assembly process: top processing reliability for safety-related components, high flexibility due to the wide variety and targeted reliable electro-static discharge (ESD capability) of system components utilised. In addition, these components require an assembly environment which fulfils the guidelines of technical cleanliness and also scores highly on ergonomic aspects. The customer may face difficulties in coming up with an economical solution to this complexity.
The automation specialists need to offer flexible assembly solutions for all grades, which can all be adapted to the current market situation: from components and manual work stations, up to semi or fully-automatic assembly systems. This flexibility specifically counteracts planning uncertainties and should be continually responsive to modification demands.

One such guarantee of success is the "intelligent manual work station", which can be flexibly adjusted to any economic situation and is particularly beneficial if automatization appears uneconomical.
This is particularly relevant for E-mobility where production rate trends are difficult to predict. For the assembly of E-mobility components, it is preferable to opt for a flexible, upgradeable assembly line with intelligent manual work stations which combine manual handling with top processing reliability.
"In addition to our standardised manual work stations, we also supply automated, extremely flexible assembly cells of our DCAM product family. Equipped with one of our most modern screwdriving function modules, combined with high quality industrial spindle screwdrivers with a screw feeder, it will complete any screwdriving task. The modular assembly cell is particularly suitable for fluctuating production rates, diverse product ranges and short product life cycles.
As a system solution, the DCAM combines efficiency with the best possible processing reliability. The modular, flexible platform concept, in combination with the freely programmable X-Y axles, justifies the implementation of this assembly cell for the most varied of assembly tasks", says Jürgen Hierold, Sales Director at the machine builder Deprag in Amberg, Germany.
A measure in attaining highest flexibility is the use of modular system concepts with standardised components. Deprag has a comprehensive module portfolio including sensor-controlled screwdrivers, feeding systems, controllers etc., all from a single source. These individual modules are already coordinated with each other, thereby saving time and effort in integration.
The high flexibility means that assembly systems can be quickly adapted to the current market situation; counteracting planning uncertainties and quickly reacting to changing requirements.
Abrasion and Particle Elimination
With regard to technical cleanliness, the manufacturer has developed his own complete CleanFeed concept with specific CleanFeed components. This includes elements for low abrasion part feeding to minimise the accumulation of damaging particles from the outset. Low abrasion sword feeders are particularly gentle at sorting, separating and supplying fasteners. Sensors on the device automatically determine the number of strokes necessary so that stroke movement and therefore abrasion is kept to a minimum. Furthermore, hoppers help to keep a consistently low quantity of fasteners in the feeding system because fewer screws mean less contamination.
However, because the generation of particles cannot be entirely eliminated, suction systems are also an effective method of creating cleanroom conditions. The "Particle Killer" targets and removes dirt particles before assembly and ejects them through a filter. A SFM-V vacuum screwdriving module on the other hand, uses suction to remove residual dirt directly from the screwdriving tool via additional vacuum sources. As well as modifications to the hardware, particle contamination is also combatted by intelligent adjustments managed by the controller, such as a reduction in speed during bit engagement with the screw head, at the same time averting wear and tear on the tool.
Because productivity plays an essential role in the e-Mobility sector, Deprag has developed the 'Cockpit', a new digital service, which facilitates an easy introduction to the interconnected factory.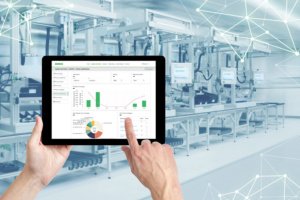 The software facilitates supervision and analysis of assembly tasks and provides analysis tools for continuous process optimisation and the recognition of trends. The data from a company's various factory locations, their production lines and connected devices are collected centrally by the system. Data can even be collected from production locations spread throughout the world.
The 'Cockpit' can be configured remotely through the 'Internet of Things' and current operating data can be retrieved.
This ensures early detection of potentials and swift reaction to any variations. When screwdriving processes are optimised in a timely manner less reworking is required, production time and quality improves, and products can be safeguarded or even enhanced. Whether it is used to connect screwdriving systems or smart tools – all processes can be monitored, analysed and optimised centrally.
Stefan Müller, Head of Deprag Software Development, clarifies: "Our 'Cockpit' is a practical and extremely efficient development which operators can access at any time to get a clear overview of all our controllers".
Conclusion
All customer specifications for E-mobility are fully satisfied by our standard components: processing reliability, flexibility, ESD-capability, technical cleanliness, ergonomics and economic efficiency.
"That, which for the customer may seem difficult to solve, can be realised cost-effectively with our in-house standard components and solutions. Our components are already all coordinated and compatible with one another. Integration runs smoothly and there are no time delays, in contrast to situations where the customer needs to align and adjust components from varied manufacturers", explains Hierold.